Head and Neck Conditions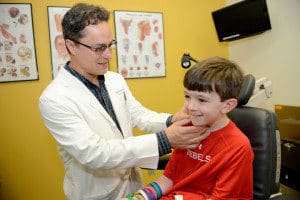 Head and neck disorders include neck masses, hemangiomas, and vascular malformations. The expert physicians at Pediatric ENT Associates (PENTA) are specialists in evaluating, diagnosing, and treating head and neck disorders, and will help you to find the best treatment plan for your child, even if that neck masses treatment plan is a simple wait-and-see approach. Head and neck disorders can be frightening for parents, but the doctors of Pediatric ENT Associates have over 60 years combined specialty training in this field.
Neck masses
Neck masses in children can be congenital or acquired. Fortunately, neck masses in young children are very rarely cancerous and can be treated successfully in most cases. Inflammation and/or infection accounts for a large percentage of neck masses treatment, as well as congenital conditions such as hemangiomas, lymphatic malformations, and thyroglossal duct cysts.
Neck masses should be evaluated immediately by a PENTA specialist to determine the nature of the mass and what kind of treatment, if any, is called for. In some cases, these will disappear on its own without the need for treatment; however, it is important to have neck masses diagnosed by a specialist in order to determine what kind of mass it is and appropriate treatment options.
Learn more about neck masses.
Hemangiomas and Vascular Malformations
Hemangiomas, also called strawberry marks, are vascular birthmarks that grow rapidly over the first year of life but generally disappear before a child turns ten years old. If the mark is in a highly visible area such as the face or in another area which could impede breathing or other necessary functions, then there are hemangiomas treatments available to reduce the mark.
Other types of vascular malformations include portwine stains and any malformation of the lymphs, veins, or capillaries. Treatments for vascular malformations include sclerotherapy, lasers, or surgical removal, depending on the type and severity of the malformation. Treatment for vascular malformations are not common, but your pediatric ENT specialist will advise you on the best course to take considering your child's personal situation.
Learn more about hemangiomas and vascular malformations.
For more information on hemangiomas treatments, visit nih.gov.
Schedule a Vascular Malformations Treatment Appointment with Our ENT Specialists
If your child experiences a neck mass or vascular malformation, do not hesitate to have it evaluated by an expert pediatric ENT. To find out more information and to schedule your consultation, call Pediatric ENT Associates at (205) 831-0101 today.
Next, read about Ear Conditions.